Russia has enough missiles to carry out yet more heavy strikes against Ukraine, but Ukrainians will resist, President Volodymyr Zelensky has said.
Engineers are continuing work to restore electricity to homes, hospitals and infrastructure following a ninth wave of Russian strikes on Friday.
The attacks have targeted civilian infrastructure, as temperatures drop below freezing in many regions.
Kyiv has accused Moscow of using winter as a weapon.
Parts of the Ukrainian capital remained without power and heating on Saturday, the city's Mayor Vitali Klitschko said. But water supplies have now been fully restored in the city.
Power has been restored in the country's second city of Kharkiv, after it was left without electricity for hours following Friday's wave of strikes that targeted energy stations across the country.
Local officials said as many as nine power facilities were hit as Russian forces fired 76 missiles and carried out drone attacks.
Kharkiv's mayor said the city suffered "colossal" damage.
One resident, Anastaisa, told the BBC the strikes began on Friday morning.
"In a matter of minutes, the lights started blinking," the mother of a two-month-old child said.
"Just 10 seconds later, we were out of power, everything just went still and that's it."
Defence Ministry adviser Yuriy Sak told the BBC on Friday that Russia's frequent attacks meant that repairing the damage to electricity infrastructure is getting harder.
Elsewhere, in the city of Kryvyi Rih, four people have been confirmed killed after a residential building was hit -a 64-year-old woman, a 30-year-old couple and a one-year-old boy, whose body was found overnight. A third person died in Kherson. In Kyiv, the city's metro was left at a standstill.
The alarm was raised across Ukraine on Friday and Commander-in-Chief General Valeriy Zaluzhny said air defences had intercepted 60 of the 76 missiles fired, most of them cruise missiles.
Kyiv city officials said about 40 missiles had been fired at the capital alone – one of the biggest barrages since Russia's 24 February invasion.
Thirty-seven were brought down by air defences, the officials added.
"It's very stressful, but now I'm used to this," said 42-year-old Oksana, who lives in the capital. "I don't want our children to live through this, to be in basements, shelters, I don't want this for them."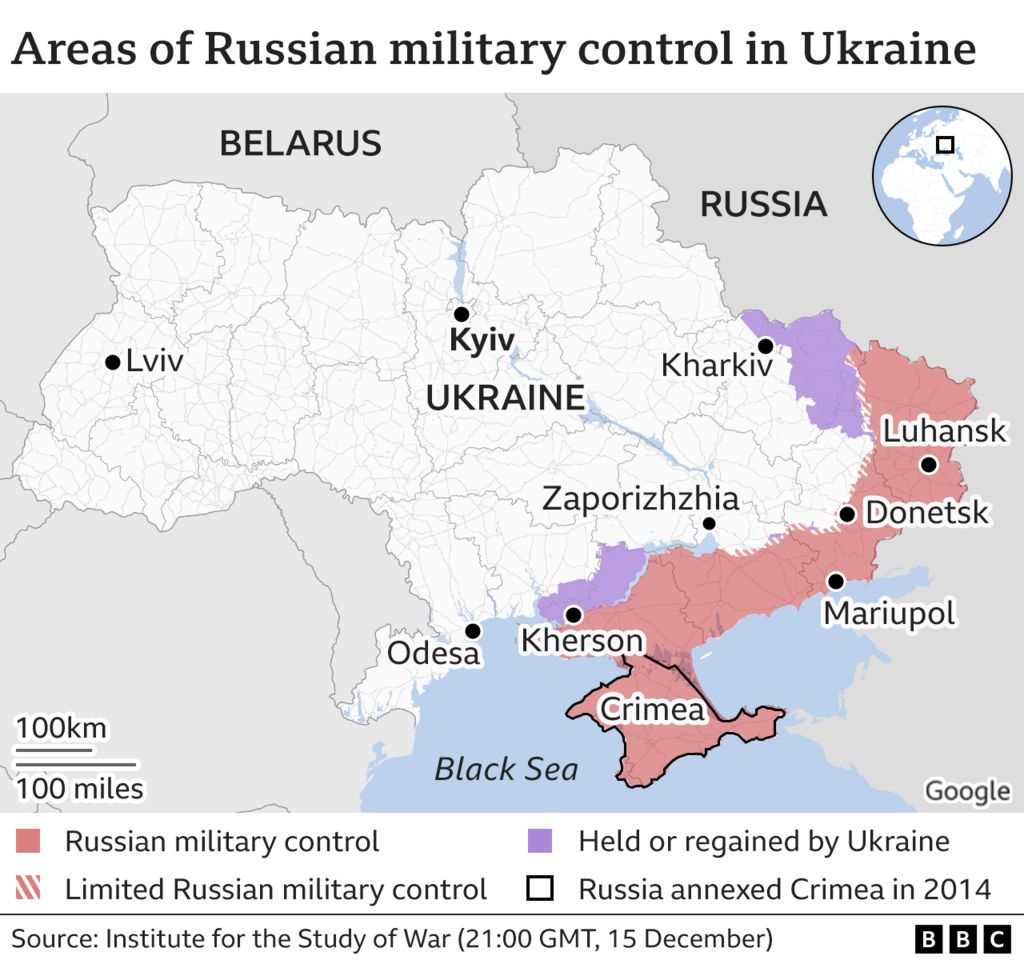 Russia's attacks also cut power in the north-eastern Sumy region that borders Russia, and also in the central cities of Poltava and Kremenchuk.
Russia has launched more than 1,000 missiles and Iranian-made attack drones since the wave of strikes began on 10 October.
The UK's Ministry of Defence says there has been an "uptick" in Russia's campaign of long-range strikes against Ukraine's critical infrastructure in recent days.
UN human rights commissioner Volker Turk warned Thursday that more attacks on power facilities could "lead to a further serious deterioration in the humanitarian situation and spark more displacement".
"I'm angry," said Yelyzaveta, 21. "They [Russia] are destroying our lives. We are used to it now. The most important thing is that Russia isn't here."
And Anastasia said that life was becoming more difficult as winter sets in.
"When it's daytime it is still OK, it is tolerable and I can manage the situation, but when it's dark outside, this is when my problems begin because I need to see clearly, to measure baby formula and also to attend to the baby – those are stressful," she said
"And, of course, just the effect that we are out of power creates a lot of tension and lots of stress. So we just survive through the night and when the day breaks, it gets a bit better, but we cannot compare it to our normal day."
Source: The BBC News